"Sober Thoughts"
By Alicia Gilligan
I grew up in a broken home, with lots of steps and halves; broken people, trying to be whole…coping. Despite the turmoil of divorce and remarriage, I grew up knowing I was loved and I grew up in church; both very positive influences upon my young life. I gave my heart to the Lord at age 5. And yet, I also grew up with alcohol in the home…more coping. My youth was deeply affected by the choices of others, but none so much as the presence of alcoholism in our home. I tried to hide it from my friends, ached through ruined holidays and wrecked birthday parties, stalled making plans socially or inviting company to my home, not wanting to risk embarrassment. Alcohol was in some way at the root of every argument and unpleasant memory. It clouded judgement, prevented honest dialogue, prolonged misunderstandings, and left each of us feeling worthless in its stranglehold on our family. One chose to drink, and the rest of us were left to deal with it. There was no aspect of our lives that was not in some way harmed by the abuse of alcohol.
"Functional alcoholism" can look a lot like a normal life to those on the outside, until you see it from the inside and feel the sting of selfishness at its addictive core. There is functioning – working, showing up for certain responsibilities – and yet, the drinking becomes the constant daily activity without which the person believes they cannot cope. Anytime you believe you cannot make it through a day without something, that "thing" now has power over you. Because of my personal life experience, I will never see the drinking of alcohol as benign. It is destructive from day one; altering brain function, dulling impulse control, hindering the ability to take consequences into account. It is progressive, and in many cases, it can be fatal. It is anything but benign. 
For me, becoming an adult meant that I could finally decide for myself if alcohol would be a part of my life. If I am honest, I married young to escape it, and I have always been grateful to be freed of its influence and effects in my daily life. For many years of marriage and ministry, I felt separated and safe from situations where alcohol was being served. I needed the respite after years of growing up in an alcoholic home. As pastors, we do not drink, nor were we ever in social or ministry circles with those that did…until now. More and more often, over the last two decades, I have watched as countless friends and family – both in ministry and in secular life – have become "drinkers." I have observed the paradigm shift in which "social drinking" has gone from something seen as a negative to a "What's wrong with you? You don't drink?" mentality. Sadly, even in the church. As a woman in ministry, I have listened to the points of scriptural argument: "We are under grace" and "The Bible does not forbid drinking." And yet, as the alcohol consumption increases, I have observed as lives go off track, marriages come undone, families splinter, jobs evaporate, children pay the price, and precious lives unravel because of alcohol use and abuse. 
I usually get the call when the line between sober and drunk has been crossed; hurtful words and destructive behavior often follow, and after the hangover has worn off, solace and grace are actively sought and needed to mend the edges of frayed hearts. To this day, I have never sat in a counseling room and heard the words, "My life is so much better since I started drinking." 
Whatever your reasons for drinking – celebratory, blowing off steam after work, managing stress, coping with depression and trauma, or just to feel relevant – it is clear that there is an active, on-going struggle to define and understand proper boundaries with alcohol.
Girls, we have a problem…a drinking problem. Recent studies show women are outpacing men in the increase of alcohol use, abuse, and binge drinking. It is not by accident, since the marketing of alcohol specifically to women has surged with the availability of cheaper, sweeter, and fruitier tasting alcohol. Adding to these statistics is the trend of "day drinking" and "mommy juice," making drinking for young women and mothers more appealing and socially acceptable. We have an epidemic that is taking a toll on women and those who love them.
Young women, the world needs you sober! More honesty: if it had not been for my mother's faith, God-given grace, and all-out resilience in the face of my step-father's alcoholism, our family would not have survived. She literally loved us through the wounding, as Dad struggled with his dependence on alcohol. He was a very good man, but he had a very serious problem. We knew we were loved. I wish I could say it was enough to have protected us. I can look back now and see that my involvement in a good church and in music activities at school gave me a sense of purpose, filling in the holes of my self-worth that had worn thin. But the nature of alcoholism is that it hinders the addicted person from being completely loyal to those they truly love…the first love is replaced with addiction. When alcohol begins to fill the heart-space reserved for God and others, all will suffer.
A "vice" is defined as a "substitute for well-being." My sisters, there is a grace to live this life. As a Christian woman, you already have the ultimate Substitute for your stress and suffering: the grace of God provided through the sacrifice of Jesus. It is the single-most important factor for why I am a Christian today. Only the unconditional love of Jesus and the gift of grace in my life could address the wounds leftover in my little girl heart from enduring decades of dysfunction.
In Hebrews 4, the Message paraphrase says, "We don't have a priest who is out of touch with our reality. He's been through weakness and testing, experienced it all—all but the sin. So, let's walk right up to him and get what he is so ready to give. Take the mercy, accept the help."
God gets it. He gets you…and He knows how to grace you to live this life, eyes and heart wide-open, soberly.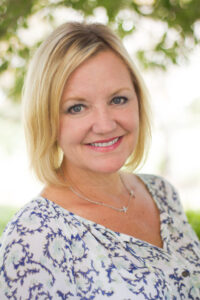 Alicia Gilligan has been married to Tim for over 30 years. Together they co-founded Meadowbrook Church in Ocala, Florida. They have raised five children and have two grandchildren. During their decades of ministry, she has used her love of music, photography, youth, and communication to serve the ministry in a variety of ways. A true "people person" – she is a teacher of the Word and an encourager. She assists with staff development and leads Heart of a Woman ministry at MBC. She is an avid runner and enjoys reading on her front porch, family time at Disney World, a good breakfast, and road trips filled with great music. She lives her life with joy, finding grace and courage in knowing that, "God saw this day!"