Have you ever experienced an "expected-unexpected" challenge? Those moments you know will be tough, but you didn't know just how tough?
Six months ago, I had surgery on my right foot and it was an expected-unexpected challenge in my becoming story. Stepping into surgery on September 15, I knew it would require a journey to recovery; I just didn't realize how long the journey would be. I didn't realize it would be 196 days until I could wear my favorite boots or go for a run again… it was expected and unexpected all at the same time.
Right now, I'm learning God does special becoming warrior work in this expected-unexpected place if we'll lean into what He's doing and trust Him. Throughout this recovery journey, I have learned—and am learning!—what it means to ask for help, be still, find joy in new experiences, and process my thoughts and emotions in new ways. Was every day a walk in the park (pun intended!)? Not at all. These six months have often felt like an uphill climb, an internal fight to BE the warrior I know God designed me to be. And here… still journeying through the process… I feel stronger each and every day, discovering more and more of who God made me to be.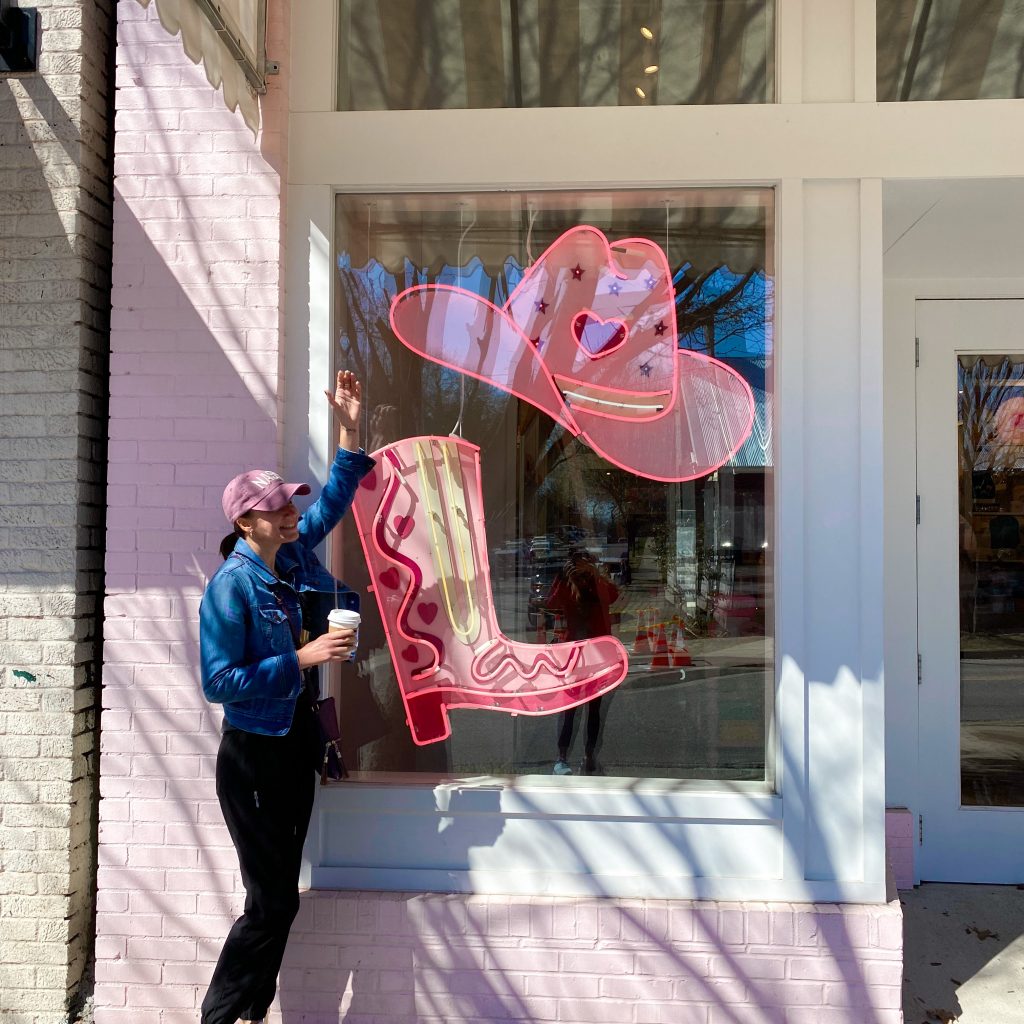 My warrior sister, Katie, captured these photos outside a store on our sister adventure to Nashville recently. I love them. I love seeing the expected-unexpected moment of knowing a photo was going to be taken, and Katie capturing unexpected joy and dancing in front of a window with a pair of boots and a hat… here I was wearing the only style shoes my Doctor had cleared me to wear at the time, standing tall, confident, laughing, smiling… dancing… next to the shoes I wanted to wear.
I'm learning that sometimes it takes journeying through the expected-unexpected challenges to discover what I needed all along.
Yeah, I didn't get to rock my cowgirl boots in Nashville. But I'm seeing now… I'm awakening to the truth and reality… that the uphill climb… well… my tennis shoes were designed to help me put one foot in front of the other safely and securely to see the BEAUTIFUL view God has in store… a new chapter, a new page on this grand becoming journey He is writing in and through my life.
What I wanted: a fast recovery process. What I needed: space to awaken to and discover who God designed me to be… and to learn to dance even when what I wanted hasn't taken place just yet.
And warrior friend, this past Thursday, March 31, I was cleared to trade in my sneakers fashion for my boots… I jogged for the first time on Friday… I'm taking one step at a time thankful for this foundation built on God… learning what it means to trust Him in the expected-unexpected… each and every day!
Warrior friend, what expected-unexpected challenge are you journeying through? Pause. Take a deep breath. Talk with God. What is He saying? How is He awakening you to who He designed you to be? Feeling stuck? Unsure of how to trust God and take the next step? Email me at [email protected]—I'd be honored to partner with you!
And you know it… cheering you on big time as you're becoming who God made you to be, warrior friend!