Do you still need boundaries once you're engaged? How can you prepare for more than just a "wedding day"? Grab your coffee & join us as Joshua McCullough & Becca Leigh Zalak continue our series, REALationships, & unpack these questions with us today:
REALationships #6 | Do You Still Need Boundaries Once Your'e Engaged & How To Prepare For More Than Just A Wedding Day? from becomingme.tv on Vimeo.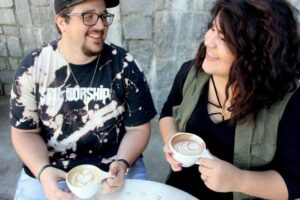 October 25, 1994, is when it all started for me, Becca Leigh. I grew up in a big, loving family from Islip, NY. However, I was the only one born and raised in Florida. I have two incredible parents who have been married for 40 years now. I'm the little sister to three older siblings and the aunt to five beautiful kiddos. Growing up, I always loved Jesus and always wanted to make a difference. In 2007, I got the call to missions. I knew God had a purpose for my life. I used to always think it meant going overseas so I began to prepare for just that. In 2011, I went to Global Youth Camp in Chatsworth, GA so I could spend one month being a Campus Intern doing nothing but serving Jesus by cleaning, cooking and working 14 hour days. I had never been so tired, but so alive. That month did not burn out my desire, it only intensified it. When I came home, I was determined to work, babysit, clean, do any job I could get my hands on to raise money to go back that next summer but this time for 2 months do the same thing. At the end of my second summer (2012) I felt God call me back for the next summer (2013) but instead of becoming a Staffer (a high school graduate, who got to work and pour directly into the campers), He wanted me to be a Campus Intern Coordinator…I worked my butt off for two years to come back and lead students in doing all the behind the scenes work. Not what I wanted to do at all. 2013 was the hardest summer of my life. God had to humble me over and over and cut away my pride and stubbornness to mold and craft me into the leader He called me to be. In August of 2013, I came back to do their Institute for one year. I was in their missions program and planned to graduate and move overseas. Little did I know God had a different plan. While I was studying in Georgia, God gave me to passion for women. I wanted to learn more about what God says about them, us, me. In February 2014, God spoke to me and told me that when I came home, I would be pursued by a man and that it was going to be the real deal. At the time I was in a bad relationship that only lead to destruction. When I came home, I was in desperate need of a home church so I checked out my parent's church even though I DID NOT want to go there. I knew once I found my church, I wanted to get involved in the youth ministry ASAP. I ended up falling in love with the church and quickly met the youth pastor to get involved. It all fell into place. That man who would pursue my heart that God told me about was in the place I didn't want to go the most. Two and half years later now and we are happily engaged and looking to be married in April of 2017. My story is still being written…My adventure is just beginning…God promises always come to pass.
Josh Mccullough serves as a staff pastor at City Light Church. He oversees all student ministry and guest assimilation. He has been on staff now for 4 years. In his current season, he is marrying his beautiful fiancé in a couple months, finding a home to buy, and learning to love Jesus everyday.