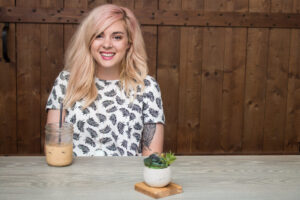 Olivia Endicott-Moore has been serving in youth ministry since she was 15 years old. Through ministry, she realized her love for working with teams, her talent for planning events and her deep passion for serving students and church leaders. For years, Olivia applied her administrative gifts in the fast-paced fashion industry then left to help lead the student ministry at one of the largest churches in the nation and eventually had the privilege of serving as a Middle School Pastor for two years in Lakeland, FL. Eventually, she felt led to make her passion for student ministry a full-time vocation, founding Bolts & Feathers.
She works with church teams and ministry partners across the country to build innovative and creative student ministry events founded in the gospel. She works alongside ministry teams from start to finish–from creative brainstorming, to social media promotion, to working the actual event. She is passionate about empowering leaders to provide a fun environment…but above all an environment that points students to lasting truth!
Olivia travels across the country to work with ministry teams from her home-base in Lakeland, Florida, where she lives with her husband Jason and her daughter Alice Anne. She spends her free time drinking lots of Starbucks, thrift shopping and spending lots of time at Disney World.