By Alexis Reinsel
The prayer of a righteous person is powerful and effective. JAMES 5:16b 
I am guessing that most of you have probably experienced prayer in some shape or form. Our country, especially in recent tragedies, is quick to pray for victims, reconciliation, justice, etc. We are all familiar with prayer to some degree but the intimacy of our prayers are all over the spectrum. It is easy to forget the awe-inspiring reality of prayer: the direct access to God through Jesus Christ. This is groundbreaking. Outside of Jesus dying for our sins to bridge the gap to God, nothing like this has ever occurred in all human history – that should speak volumes to us.
In the middle of the night one night, I sensed God speaking to my heart. I felt Him telling me to re-posture myself to Him. What this meant to me was to physically kneel before Him each morning as a way to prepare my heart and humble myself in His presence. It is too easy for us to posture ourselves in a place of pride or negligence. The simple act of physically re-posturing myself changed my prayer life because it put me in a place of humility – face to ground. Posturing ourselves physically in a place of humility and faith prepares our hearts to do the same. My prayer life was less than dynamic but God wanted to draw me closer to Him. Before I could do that, He had to open my eyes to the reality of my prayer life.
By exposing me to the reality of my prayer life, He was opening my eyes to the infrastructure of my faith. Like a building weathering rough conditions, the infrastructure of our faith needs a lot of TLC – time, love, and care. A huge portion of this faith renovation was God working on my communication with Him.
"But when you ask, you must believe and not doubt, because the one who doubts is like a wave of the sea, blown and tossed by the wind" JAMES 1:6, NIV.
When we humble ourselves before Him and boldly expect God to do amazing things in us and in our world, our prayers are "powerful and effective." As a follower of Christ, you cannot have faith without humility and humility without faith. Being humble before Christ in prayer, requires faith to trust that He is who He says He is and will do what He says He will do. And likewise, we cannot have faith in prayer without understanding our humble state of being in the presence of our God, the Almighty. This allows us to approach God's throne in boldness and confidence, knowing that we will find Him with outstretched arms, extending grace and mercy to us. "So let us come boldly to the throne of our gracious God. There we will receive His mercy, and we will find grace to help us when we need it most" HEBREWS 4:16, NLT.
My hope for us all is to reevaluate our prayer life – our communication with God – so that we can experience the wonderful privilege of having an intimate relationship Him. Take some time to reflect on your prayer life today and ask God to reveal to you how to posture your heart in a way that honors Him and will take your faith to the next level. Remember, there is no wrong way to pray so long our hearts are clothed in humility and faith.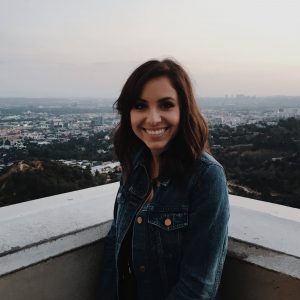 Alexis Reinsel is an Orange County native and loving married life with her dreamboat husband, Ryan! She is currently serving as a Communication Specialist at Saddleback Church and has a passion for serving our Lord. At an early age, God had planted a desire in her heart to live a life that pours into young women's lives. She loves the adventure God has her on, especially the surprising twists and turns He guides her through, to her those make for the best becoming stories.