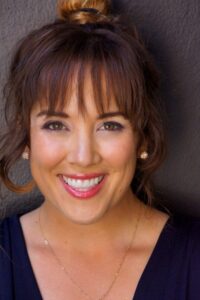 Emily Benford (aka "Emily B") is a singer, worship leader, songwriter, vocal director, and speaker. Growing up in a musical family, Emily knew early on that God had a special calling for her and her voice. She took a leap of faith and moved from small-town Idaho to Southern California over 10 years ago to pursue her dream of becoming a professional singer. Since that move, Emily has been blessed with a successful career as a highly sought-after Session Singer in Los Angeles and has had the honor of singing on projects such as: Glee, Disney's Tinkerbell, American Idol, X Factor, and The Muppets and Pitch Perfect movies, to name a few.
Not only has Emily had success behind the scenes in TV and film but she also had her first television appearance on Season 1 of BET's Gospel-music competition "Sunday Best" where she ended up as a finalist. Most recently she was cheered on as a contestant on Season 6 of NBC's Emmy-winning reality show "The Voice", where she was a on Team Shakira; turning 3 of 4 coaches chairs and making it to the Top 32 out of thousands of hopefuls. Through "The Voice" Emily was able to record her own versions of Chris Isaak's "Wicked Game" and Sara Bareilles' "Brave", which are both available on iTunes.
Emily has not only persevered through the trials of "making it" in the music business but she is also a survivor of a very rare form of cancer: VHL (or Von-Hippel Lindau Syndrome), a type of cancer where tumors continuously form in the blood vessels throughout the body. She has successfully come through two brain and four eye surgeries over the past seven years and will have to monitor this disease through various scans, tests and treatments for the rest of her life.
Emily is passionate about sharing her story through singing and speaking and using these gifts to inspire and encouraging others. Her journey and testimony have opened doors for her to speak and sing at various Women's events, bible studies, Mom's groups, Youth Groups and schools. She was able to share her medical journey with the nation on "The Voice" which has allowed her many opportunities to be the guest singer/speaker at various VHL-centered events. With the support of the VHL Alliance and her music community, she has started the "VHL Vibe" where Emily & her talented musician-friends perform in the hopes to raise awareness & money for VHL and, ultimately, find a cure.
For the past 3 years Emily has taken on the role as a Vocal Director/Arranger at Saddleback Church, Lake Forest, where she also leads worship from time to time. Emily lives in Orange County, CA and enjoys living life with her husband of 7 years, Roderick, and being a stay- at-mom to her three, young sons. Tytan (5), Atlas (2) and Apollo (9mos).