It's overcast and 60s outside of Standford Hospital I'm sitting in the courtyard, sipping on a soy dirty chai latte to start my day. It's exceptionally delicious for coming out of a coffee truck.
Yes, you read that right. A coffee truck.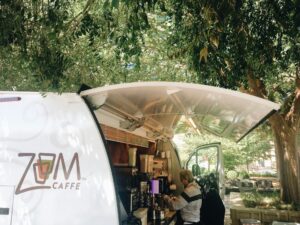 Eric and his wife run their on-the-go business Zoom Caffe full time. As Eric and I are conversing while he makes my drink, he points out the fact that I spent the night in the hospital. Flustered into self-consciousness, I instantly start thinking I must have bloodshot eyes or the worst case of bed-head…but it's not that at all. He can tell because knows the signs. He was once in my shoes.
Eric's wife, Carmela, had an open heart procedure done some time ago. Eric spent many days and nights in ICU as her biggest cheerleader and her constant source of support. It was in her recovery there at Standford that she gave birth to the idea for a mobile coffee shop for a fast-paced, on-the-go culture. Eric began engineering the concept, and together they brought the idea to life.
Something like a loved one being long-term hospitalized is a change of norm that none of us invite. It's physically, emotionally, mentally, and spiritually draining. Most unwanted change is. It's those moments that suck the air out of our lungs and make us feel like maybe we're only dreaming. Change breaks our sense of normality and stability, forcing us into a new and uncomfortable rhythm. It doesn't even matter if the change is relatively good or bad––if it's not a change we are prepared for or one that we desire, our built in response is to resist it.
So how to we deal with unwanted change in a healthy and progressive way?
When Eric told me their story, he was intentional to stop and share some advice that he learned during their hard season at the hospital. What he said and what they model apply beautifully here:
Take Care of Yourself
When we're spent, we can't process the circumstances around us without elevated emotions. Personally, I know that when I start skipping what helps me rest and recharge, I can get irritated and overwhelmed. Neither of those things lift the atmosphere when unwanted change is in the air. Eric said to me, "The people closest to you know you. Walking into the situation with a fake smile doesn't help anyone." He couldn't be more right. When we sacrifice taking care of ourselves in the midst of change, we sacrifice the ability to properly deal with it, too.
Get Out
"It's nice in there…but it's still a hospital," he told me, "Go out and eat, shop, go for a run—whatever gets you going. Just don't stay there the whole time. It will wear on you." Whatever your circumstance is, physical or intangible, you have to "get out". Staying in the grass and roots of the change will only allow you to see the challenges and negative aspects. The best way to begin to accept unexpected change and make the most of it is to start by pulling yourself out. Take a moment to catch your breath, clear your head, and re-evaluate from a fresh perspective. It makes a world of difference.
Look for the Bigger Picture
As Eric and Camila are a living example of finding opportunity in the obstacle, we can learn to do the same. Develop the strength to look beyond the immediate effect of unwanted change, and see how it can be used for something bigger than the here and now. Some of our greatest set-backs actually set us up for our greatest triumphs or blessings. In his all-knowing and all-powerful way, God wants to take all our uncomfortable, anxious, and unfavorable circumstances and leverage them for His purpose and his glory. We just have to trust Him, knowing that even when we can't see the bigger picture, He certainly does.
While it may help to have a few strategies for dealing with unexpected or unwanted change, it may not be enough to encourage you today in the midst of what we you're facing. In moments where I feel my personal situation is too complicated or too chaotic to wrap my head around, I find a voice that understands and encourages me in a deep, unparalleled way within the pages of scripture. I close my post today with a few verses that have kept me anchored in dealing with some of the most challenging weeks of my life. Even though I may not be able to speak directly into your exact circumstance, I'm believing that at least one of them will resonate with you as you boldly charge forward and firmly conquer the changes that lie before you.
Key Scriptures to Remember:
Romans 8:28: "And we know that God causes everything to work together for the good of those who love God and are called according to his purpose for them."
Ephesians 1:11: "Furthermore, because we are united with Christ, we have received an inheritance from God, for he chose us in advance, and he makes everything work out according to his plan."
Psalm 138:8: "The Lord will work out his plans for my life— for your faithful love, O Lord, endures forever. Don't abandon me, for you made me."
Acts 27:25: "So take courage! For I believe God. It will be just as he said."
Psalm 16:8: "I know the Lord is always with me. I will not be shaken, for he is right beside me."
John 13:7: "Jesus replied, 'You don't understand now what I am doing, but someday you will.'"
Hebrews 10:22-23, AMP: "Let us all come forward and draw near with true (honest and sincere) hearts in unqualified assurance and absolute conviction engendered by faith (by that leaning of the entire human personality on God in absolute trust and confidence in His power, wisdom, and goodness)… So let us seize and hold fast and retain without wavering the hope we cherish and confess and our acknowledgement of it, for He Who promised is reliable (sure) and faithful to His word."
Matthew 6:34, MSG: "Give your entire attention to what God is doing right now, and don't get worked up about what may or may not happen tomorrow. God will help you deal with whatever hard things come up when the time comes."